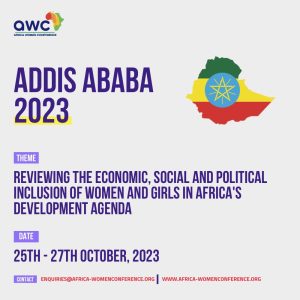 Dear Esteemed Participants and Members,
It's with excitement and gratitude that we announce a significant update to the highly anticipated 7th edition of the Africa Women Conference.
In our relentless pursuit of excellence and engagement, and in response to the feedback from many of our participants and partners, we have made a thoughtful decision to change the location of the conference from Mauritius to Ethiopia. This change in host country is not just a change in geography; it is an upgrade to an experience. Why Ethiopia?
A Hub of African Unity: Ethiopia is not just the oldest independent country in Africa or the cradle of civilization, Ethiopia is more importantly, home to the African Union Headquarters, placing the AWC at the heart of African Diplomacy and Cooperation. As you all know, the AWC is designed to proffer Afrocentric policy options to the challenges that African women face, and part of our strategy is to engage the stakeholders who have the authority to consider and implement these policy options and ensure that our voices are heard. The positioning of the AWC 7th edition will further amplify our collective voices and influence on the subjects that matter most to women's advancement in Africa.
Improved Accessibility: After an extensive review, we found Ethiopia offers more favourable travel connections for our diverse participants from across the world. This will not only reduce travel time and the stress that comes with multiple airport connections, it will also open new opportunities for cultural and business exchange for delegates and our counterparts in Ethiopia.
Also major stakeholders in Ethiopia have shown support and commitment to pushing the vision of the AWC and improving the participation experience of all members and delegates.
Unwavering Commitment to Gender Equitys: The government of Ethiopia has demonstrated a strong commitment to gender equality and women's empowerment, as about 41% of the parliamentary seats in Ethiopia are occupied by women. Hosting the AWC here aligns with our shared goals and strengthens our resolve to drive meaningful change.
Exciting Partnership with Ethiopian Airlines: In our efforts to ensure a smooth and affordable travel experience, we are thrilled to announce a strategic partnership with Ethiopian Airlines. As the leading airline in Africa, Ethiopian Airlines share our vision for a successful conference and has graciously offered special rates and tailored services for all conference delegates. This collaboration promises and unparalleled journey to the heart of Africa, thereby adding to the overall enriching experience of the event.
In view of the above, the registration closing date is now extended to the 15th of September, 2023, delegates who are yet to complete their registration are encouraged to do so.
The essence of the Africa Women Conference is our collective passion and commitment to making a difference by ensuring that the potentials of every woman is fully harnessed towards the sustainable development of our continent, and the 7th edition provides an opportunity to consolidate on all the gains of the conference, and with this change we are embracing the opportunity to do so in an even more profound and impactful way.
Thank you for your understanding, support, and shared excitement for what promises to change the face of impactful gender advocacy in Africa.
AWC, where every woman's potential is fully harnessed.
SignedDr. Jumai Ahmadu
Co-Convener
To participate, visit www.africa-womenconference.org.
Also, follow Africa Women Conference on social media for more updates;
Facebook : Africa Women Conference
Instagram: Africawomenconference
Linkedin : Africa women conference
Twitter : Africawomenconference
#AfricanWomenConference #Mauritius